EveryGame Casino No Deposit Bonus Codes
EveryGame Casino is a modern gambling platform that's actually split into two different wagering sections. There's EveryGame Casino Red and Classic Casino. Both subsections of the site are home to lots of different games and perks, and both are interesting options worth considering. If you're interested in experiencing online casino games, you may be intrigued by all the variety that's offered by EveryGame. That doesn't mean the site is right for you or that we would even recommend the platform, though. In order to determine whether the site is worth recommending or not, we decided to spend time reviewing the games and promotions offered on both of the casino subsections of EveryGame. Keep reading and learn what you can get from these sites.
Hundreds of Casino Games
Casino Red has over 300 different casino games, and Classic Casino comes with more than 120 casino games giving you more than 420 different options to choose from if you're interested in casino games specifically. This is good news to players that want to swap between games, and it's all available when you make an EveryGame membership. As a member of this site, you can use both casino subsections and all the features they offer you. With so many different games available in both sections of the site, it can be overwhelming trying to decide which games to try first. That's why we overview some of our favorites below. Learn about a few of our top picks to help you get started.
Empire Riches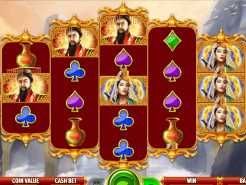 Empire Riches is an entertaining slot that's about becoming wealthy. The game plays on an impressive 57 different pay-lines, and it has a powerful re-spin feature that we absolutely love. The Re-spin feature locks winning symbols in position automatically and re-spins all the other reels for a chance at more winning symbols and a bigger combination. This feature keeps going until you stop improving the prize combination, and then you unlock the prize payout. This slot has a free spin bonus round as well, and the free spins come with a prize multiplier that grows from the re-spin feature up to 10x. The slot is entertaining, it has just the right mix of special features, and it's a real pleasure to play.
Fish Catch Slot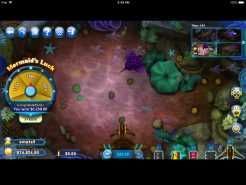 Fish Catch is a unique online slot that feels more like an arcade game than it does a traditional slot. Instead of spinning reels, you fire projectiles at sea creatures as they swim by. It's your job to defeat fish, mermaids, sea monsters, and more as you try and unlock the biggest and most impressive prize payouts that you can. The ammo has different cost requirements attached to it, and each creature you defeat rewards you an instant prize payout. The more difficult creatures are more valuable. This slot game has an element of luck involved, but it also requires skill to choose ammo and fire accurately. Overall this game is more entertaining than many others, and it's a more interactive option for players that are searching for something different. We highly recommend Fish Catch to gamblers that want to try something different.
Intense Welcome Offers
New players get access to thousands of dollars in bonus offers from both subsections of this gambling platform. Classic offers a quick $100 bonus on the first deposit for players just starting, and Casino Red gives up to $1,000 as the first deposit bonus in a series that's worth over $5,000 in bonus cash. Both sites offer many different welcome offers, and new players have loads of opportunities when joining on these platforms.
Ongoing Bonus Opportunities
Even after going through the welcome offers at this site, there are impressive, ongoing bonus perks available at both of these sites. There are free spin perks, contests, events, daily promotions, new game offers, and much more to look forward to. Serious gamblers should look at the promotions section of either site in order to take full advantage of what they have to offer. Either way, there is a lot to love about the perks at these sites overall.
Loyalty Perks
Both sites have loyalty programs in place that reward gamblers for coming back to wager again and again. If you're going to gamble frequently for an extended period of time, you'll earn comp points and unlock additional perks and prizes over time. You'll come to see the value of these perks as they add up for you and lead to free cash and other benefits from the casino.
Contests and Events
Both sites offer ongoing special events and contests for gamblers to take part in. Whether you're using the classic site or the modern Casino platform, you can enter special contests, and challenge yourself through all sorts of events throughout the year and earn special bonuses at the same time. You'll challenge yourself to compete in different games and work towards free spins and other perks as you watch for the latest events on these sites.